One of the most important steps in any makeup application is ensuring to have a smooth and flawless foundation. Creating a smooth canvas for the rest of your makeup can be challenging, especially if you struggle with unfavorable skin conditions such as acne, scarring, or redness.
While applying foundation to troubled skin can sometimes feel as complicated as a home foundation repair in Detroit, there is no shortage of esthetician-approved tips and tricks for getting a flawless base. If you're looking to upgrade your foundation routine, here are a few tips to try out.
Let's Get Started!
Discover Your Undertone
Knowing your undertone is the most vital step that aids in getting a flawless foundation. Before this, you must know how to determine undertones; below, we have listed some ways.
The first one is examining your wrist veins under natural light. If your veins are:
green, you have a warm undertone
blue or purple, you might have a cool undertone
the same as the color of your skin or a mixture of blue or green, then you have a neutral undertone
The second way is with ornament; try golden and silver.
If golden suits more, you have a warm undertone.
If silver, then your undertone is cool.
If both look superb, you are neutral.
Now you can easily select your foundation according to your undertone.
Find the Correct Foundation Shade for Yourself
Searching for the perfect shade is difficult due to the variety of products. But once you've determined your undertone, you can easily select the perfect foundation shade.
After selecting the foundation according to your skin tone and undertone, apply a small amount of product to your face. If it matches, then congratulations, it's yours! If it doesn't, try more options until you find the correct one.
Begin With Hydration
Applying makeup to dry skin can be difficult, and face products like heavy foundations or concealers can cling to dry spots, often making them look worse. An essential step in your makeup routine should be prepping your skin with a rich moisturizer, even if your skin is naturally oily, to reduce dryness and to give your skin a fresh, smooth base layer that makeup can sit on top of.
Use a Primer
After hydrating your skin, it is vital to apply a primer to continue giving your foundation a smooth canvas to sit on and give your makeup staying power throughout the day. If you find that your makeup slides around or smears after a few hours of wear, likely, you aren't wearing the suitable primer for your skin type, and simply adding a better primer to your makeup routine can change the way your entire face looks.
Use a Damp Sponge
While using your fingers or a brush is okay for applying foundation, many expert makeup artists feel that the best way to get an even and natural-looking layer of foundation is by using a dampened beauty sponge. However, if you use makeup brushes, then make sure to clean them.
Use A Powder Puff
While many people opt for a large, fluffy brush when setting their foundation with powder, using a powder puff is the best way to press powder into the skin. Pressing translucent powder into the skin with a pointed powder puff will lock in makeup and give you a mattified look while preventing cakiness and ensuring that everything stays looking smooth.
Blend Accurately
For blending, selecting a high-quality beauty blender or foundation brush is mandatory because low-quality ones absorb a lot of foundation. Ultimately, it won't give you your desired look.
Apply your foundation in dots on your face, starting from the center and moving outwards. Then, gently blend them and avoid rubbing, as it will only pull the foundation out of the skin and gives a caky appearance.
Use Color Corrector
Color correction is a crucial part if you want to get a flawless foundation. It helps to deal with uneven skin tones and neutralizes dark circles, hyperpigmentation, acne scars, and blemishes. Also, it provides a beautiful canvas for the rest of your makeup.
Use Concealer
Using foundation to hide spots or pimples is the biggest mistake made by many. For this purpose, you should use concealers; apply them on your spots, as it'll hide them and provides maximum coverage. After this, you can lay your foundation.
Use A Setting Spray
Most makeup artists agree that the best way to get a dewy, life-like finish after applying face makeup is by using a high-quality setting spray. This will also help lock in your makeup, so it stays in place all day.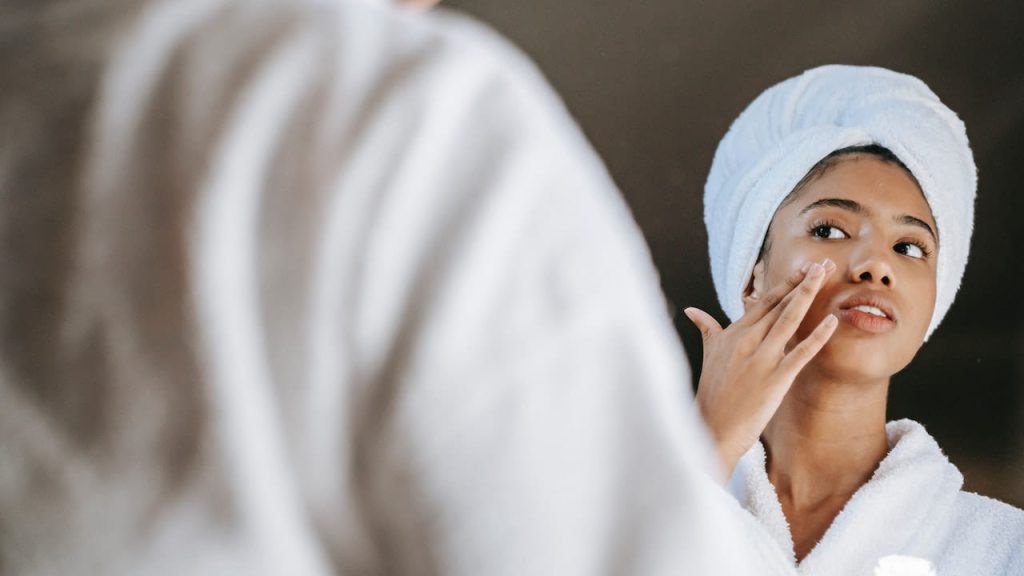 Final Words
There is no denying the power of makeup; we use our favorite items to create the beautiful looks we adore, highlight our favorite characteristics, and embody our beauty ideals.
In terms of cosmetics, a handy application make all the difference. You may get the desired beauty appearance and make the most of your makeup by correctly using your preferred products and the appropriate amount.
No matter what the day holds in store, the best makeup routines assist the woman in increasing her confidence and confronting the world head-on.