With the rise of technology horizon, the teenage-sexting is becoming common in our society. Mostly children under the age of 18 are involved in sexting or becoming harmed from this unethical situation and get in a serious trouble or they commit to suicide.
What is Teenage-Sexting?
Sexting is to get sexual recipient intentions or feeling by communicating sexually suggestive text or videos on a digital media. The sexter (sender of the message) and sextee (receiver of the message) hang out for long period of time to enjoy the pleasure of sexual talk without physical interaction in a privacy.
Why Teenager does Sexting:-
Mostly young girls want boys to think sexually about them.
Both girls and boys are already assured whatever they text or send snaps are only visible to each other.
Both opposite sex do anything for their true love such as sending nude photos and sexy messages.
Some of them are influenced by the hot pictures of celebrity and they have done similar steps and posted their pictures to lovers.
Some girls or boys don't want to do but they are forced to do sexting.
Another quickie way of teenage sexting is to hook–up online for fun and a great way to experiment with sex safely.
How many Teens are Sexting?
Sexting is a crime and charged as a child pornography.
As you know nowadays teens are well connected in a majority and having their own cell phone and internet account. They spend most of their precious time on the internet to play games, do researching, making applications, watching movies, sending an email and using social networks etc.
Unfortunately, it puts all of us in surprise that many adolescents expose their personal information online to others. About 1 in 5 are engaged in teenage sexting.
Statistical Analysis of Teen Sexting:-
You can analyze the sexting statistic on Statistic Brain to open your eyes.
| | |
| --- | --- |
| Teen Sexting Statistics (Ages 13-19) | Data |
| Percent of Teens who have sent a sext message | 39 % |
| Percent of Teen Girls | 37 % |
| Percent of Teen Boys | 40 % |
| Percent of Teens who have received a sext message | 48 % |
| Young Adult Sexting Statistics (Ages 20-26) | |
| Percent of Young Adults who have sent a sext message | 59 % |
| Percent of Young Adult Women | 56 % |
| Percent of Young Adult Men | 62 % |
| Percent of Young Adults who have received a sext message | 64 % |
New Teen Sexting Data from Cyberbullying Research Center:-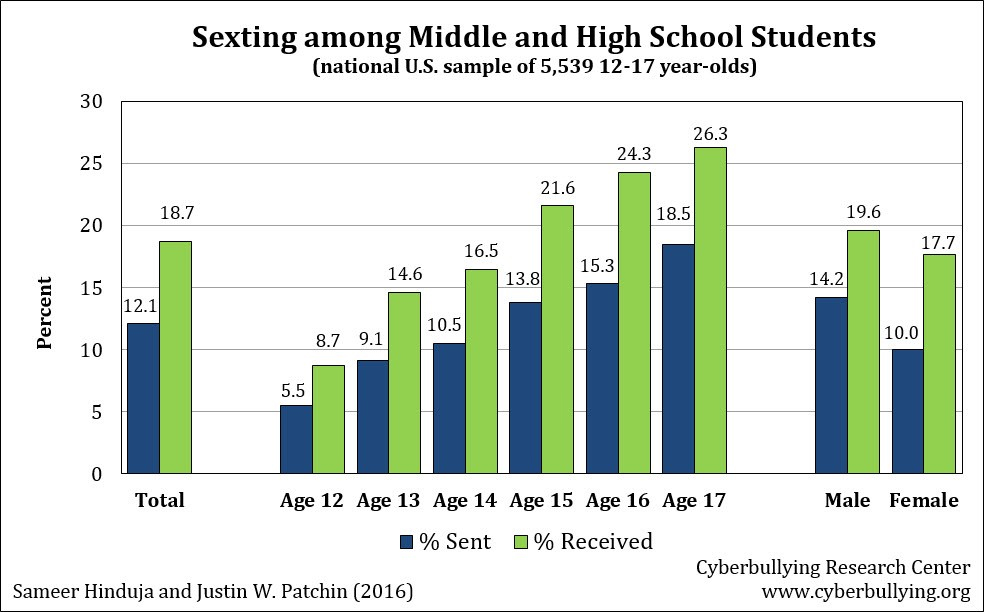 What is the Risk Factors of Sexting?
Teenage-Sexting comes with curiosity for sex, peer pressure and love. Once they involve in it, loss self-impact of personality and are matured from their current age.
Their calmness and shyness are diminished.
Everyone starts to hate a teenager.
If a girl or boy is doing sexting which is illegal and arrested by police then coming future it may affect their job.
If you have a criminal record they can't go other countries.
No one trust on an adolescent it may put them in a deep
How to Avoid Teenage Sexting?
For parents it is important to keep reading their children once they reach at the age of 12. If they are addicted to sexting they are started to blind trust which leads to psychological damages and sextbullying.
Talk sooner about the situation with your mum, dad and school teacher. They will help and confiscate mobile if they believe they have faulty images.
Social networks like Facebook, Snapchat, Instagram, Twitter, Whatsapp don't allow sexual images of children under 18. If a person shared any teenager sexual picture without his permission then he is breaking the law and that person can contact Revenge Pornography Helpline.
A child should take an internet safety class.
Help the teenager to analyze the abuse of technology.
Conclusion
I think sexting is damaging the teenager's life. The young youth do not know what happens when they press the send button on a social network or an email. How their hidden data is showed to end-user.
It is the responsibility of educators, parents, and policy makers should respond to build social information of teenage-sexting to avoid any mishap and ensure that response from end users or sender/receiver are free from fear and stereotype.
If you find your expected results then parents in the society should encourage an open dialogue between you and their teen.