Corporate philanthropy isn't something that only the Fords and Amazons and Facebooks of the world can do. Even mom-and-pop shops and other small businesses can give back to their communities in equally as valuable ways. While they may not have the amount of cash to donate that the heavy hitters possess, they can maintain policies and procedures, as well as provide services, that create personalized effects for the individuals they serve. It's a strategy that the big corporations often don't have the time or the inclination to try. Yes, it might be easier to write a check, but small businesses that can't afford to shell out cold, hard cash can make a lasting difference in their local communities by doing any of the following instead:
Gamble on the Inexperienced
Small businesses are uniquely situated to attract new graduates at the start of their careers. Most smaller companies can't offer the big salaries that larger and more established businesses can, but they can woo the less-experienced worker who is willing to accept a smaller salary in exchange for great on-the-job training and hands-on experience. Providing opportunities for workers who might have great attitudes but few professional skills is a wonderful way to invest in people and their communities. (It doesn't hurt that taking a chance on someone often leads to his or her loyalty, as well!)
Address Environmental Concerns
The earth isn't getting any younger. And at the rate we are decimating our natural resources, it's possible and even probable that we've got fewer years left on it than we've already had. Small businesses can do a lot to maximize that time by working to reduce waste and conserve energies in their day-to-day activities. With fewer managing partners to appease and please, they can cut out the red tape and make quick, unilateral decisions. They can easily decide to implement eco-friendly practices such as using sustainable products, recycling, cutting back on paper use and offering reusable cups in the breakroom. Any of these policies helps build a stronger and better world.
Buy Locally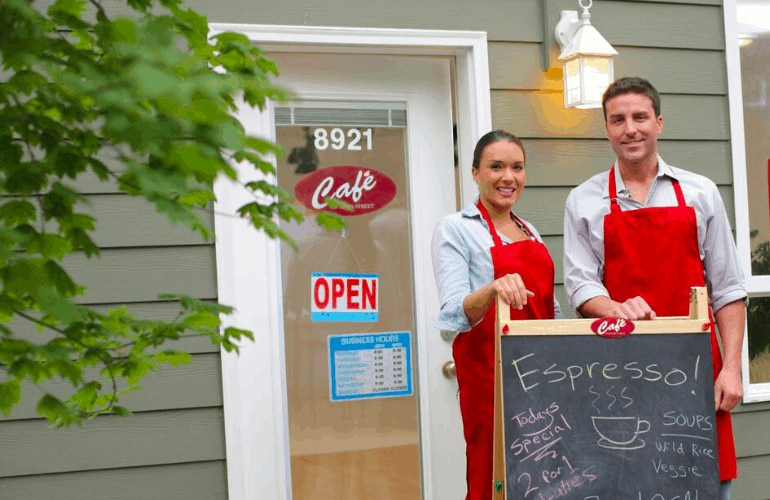 Similarly, without bureaucratic influence, small businesses can more easily choose to support local companies, thus infusing their communities with capital in a continuous cycle of quid pro quo. By partnering with similar small companies who might not have the resources to play in the big leagues but who nevertheless have quality products and services, they can help increase other companies' experience, as well as exposure.
Provide Sponsorships
A great way for small businesses to support their communities is by sponsoring a local event, team or club. Offering to offset the program costs for the annual holiday bazaar or buying equipment and uniforms for an area Pee Wee football team or providing the meal at the Flower Guild's summer luncheon enables these groups to entertain and educate their communities, making support of their programs an investment for everyone. It's also a great way to advertise without embarking on a separate marketing campaign.
Fundraise for a Cause
Small businesses can also easily help raise funds for an organization in need. They can use their contacts to gather food or clothing for a food bank or women's shelter. They can ask their employees to give to their town's United Way. By joining forces with other organizations to help a marginalized group, a small business can improve lives in concrete ways using only its time.
Donate Time, Products and/or Services
Even businesses that are short on cash can donate something. They can donate their time, their products or services, even their space. A reputable eb1 attorney could visit a detention center and offer advice. A bakery could provide donuts to the homeless. Other small businesses could offer their employees paid time off to volunteer or allow local organizations to use their offices or advertise in their newsletters, all without spending a dime. Whether a grand gesture or a simple one, giving back to a community can change the lives of the people in it.