Perfect Engagement Ring
Finally, you have decided to get engaged and want to make an official announcement. That's great! But un-decided part is what are you going to give your significant other on engagement day? This is where you must make a right and wise decision!!
Confused? Keep reading this guide:
1- The Budget:
You need to be very practical as what you can afford and for sure you don't want to go in debt for choosing the perfect ring. Set your budget first. If you want to be classy while remaining within your budget, you can choose the less expensive metal like palladium or simple gold instead of much expensive platinum. Moreover, try to buy 1.8 carat instead of 2. You can save the money for the stone!
2- Find the True Style:
You must know the 'style' of your significant other-the lifestyle, the personality, job etc. When you people shop around, observe what design she is attracted to? What style she is wearing? If you have access, sniff through her jewelry box. To keep it the surprise, ask her friends or sibling, and ask them to keep it secret too. Or make it easier, go together and give her surprise of her choice!!
3- The Stone: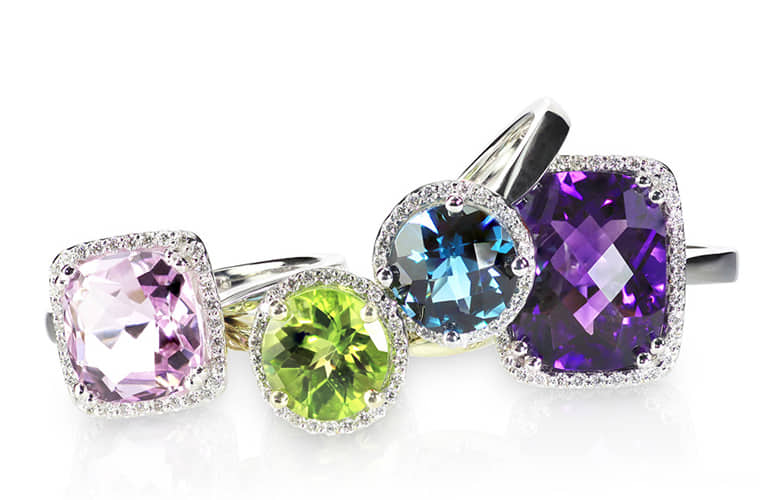 They say, 'diamond is girl's best friend'. However, it may not be the case with everyone. Diamond may not be the preference of every girl. You can choose other stones for your engagement ring like amethyst, sapphire, emerald, morganite, pearl, garnet etc. It depends upon what style and color of dress you are wearing on your engagement and hence you can choose the stone and color accordingly.
4- Right Metal for Your Stone:
Metal decides the life and beauty of your engagement ring. Platinum, 18k or 14k gold or even palladium, all are up to you to decide. But remember, gold is not as hard as platinum, hence, can wear out faster and cause your stone to loosen. Palladium is less expensive. If you want your engagement ring look like platinum, palladium is right choice for you.
5- Seek Authenticity:
When you decide to buy engagement ring, search for jeweler who is reputed and authentic. It's better to seek advice of experienced ones than to face frustration and discomfort at the end of the day. See whether your jeweler is certified with AGS (American Gemological Society) or GIA (Gemological Institute of America) when satisfied, go for your choice without waiting any more as it takes several weeks to get you engagement ring prepared on time.
6- Setting Your Stone:
The frame for your engagement ring is very important step. Of course, it depends upon the shape and size of the stone, but it also on what style you want it to be? Whether you like a clustered pave, or a halo setting, it's up to you!
7- The Four Cs Rule:
Cut, Clarity, Color and Carat. Since buying diamond is a big purchase, remember this 4Cs rule to have perfect looking stone. Keep in mind the size and quality. You can choose colorless diamond, with perfect clarity and very good cut. This strategy works well with your budget.
8- The Perfect Shape:
Though it is entirely up to you as what shape do you prefer, but some knowledge about the trend in engagement rings makes your choice better. Round is all-time-favorite shape. If you want to be different the cushion cut and princess cut would be your perfect choice. Keep in mind her style as you go for the shape. To be on much safer side, oval, square and emerald cuts are not bad choice either.